Husen Tura Successfully Defends his Doctoral Dissertation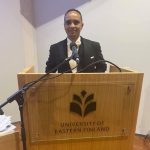 On February 4, 2020, our doctoral candidate, Husen Tura, successfully defended his doctoral dissertation.  The defence for the dissertation, entitled Linking the Rights to Food and Land in Ethiopia: The Need to Reform the Relevant Legal Framework to Enhance Food and Nutrition Security, took place at the University of Eastern Finland.
Reacting to his new achievement, Husen said he felt relieved, fulfilled and highly optimistic for the future. He also expressed his gratitude to his supervisor, Prof. Katja Lindroos, and the opponents, Prof. Elina Pirjatanniemi and Dr Muradu Abdo.
From the UEF Commercial Law team, we celebrate with Dr Husen Tura on his accomplishments and wish him the very best in his future endeavours. Congratulations!
Click here to read Husen's dissertation.