General info
Venue
Kuopio Music Centre
Kuopionlahdenkatu 23, 70100 Kuopio, Finland
Contact information
Symposium Secretariat
Kuopio Alzheimer Symposium 2022
University of Eastern Finland
Neurology
P.O. Box 1627, FI-70211 Kuopio, Finland
e-mail: AD2022SecretaryInfo@groups.uef.fi
Official language
The official language of the symposium is English.
WLAN at Kuopio Music Centre
Free wlan (panKUOPIO, no password) in symposium area is provided.
Virtual participation in the symposium
Participation link has been sent to the registered online participants to email adress informed in registration.
Please note: The parallels 1 and 2 on 24th Aug on-line connection is organized via zoom. The zoom link has been sent via email to the persons who have registered to participate on-line.
Transportation
Kuopio region Public Transport, Vilkku serves passengers in Kuopio urban area and areas nearby. Local bus number 40 stops at Kuopio airport (Lentoasema) and center of Kuopio (Tulliportinkatu).
Taxi services in Kuopio
City of Kuopio
Parking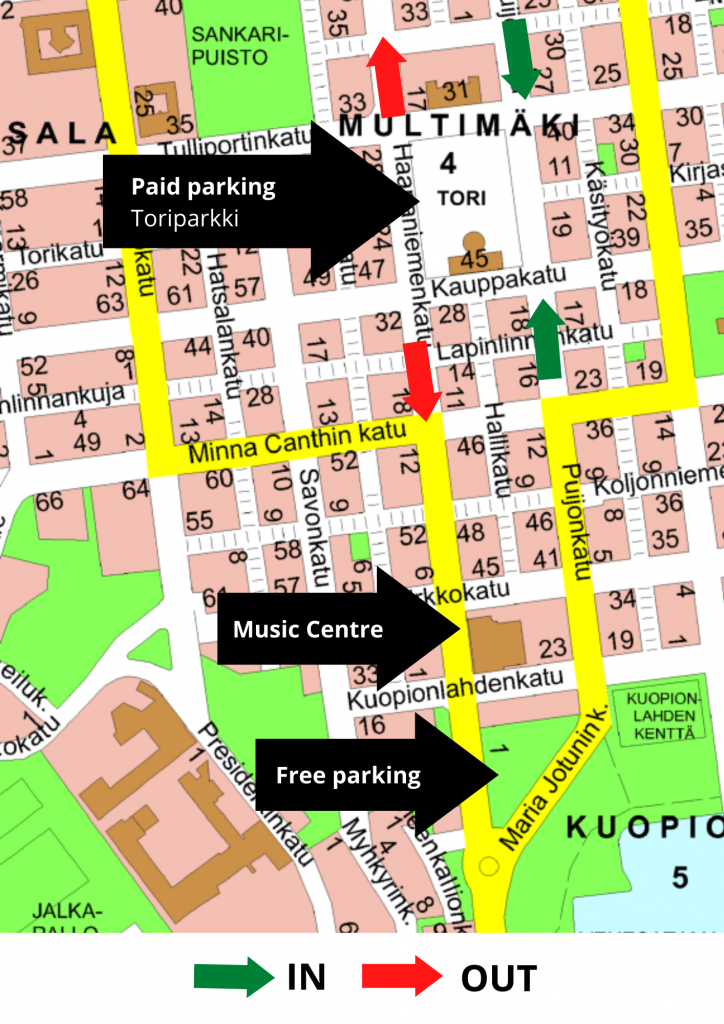 Free parking in front of the Music Centre
Paid parking under the market square (Toriparkki). Please, ask ticket from registration desk for driving out the parking hall.
Social program
Welcome Reception
Tuesday, August 23, 20:00–22:00
Restaurant Wanha Satama
Matkustajasatama (Passenger Harbour), Kuopio
Dress code: smart casual
Get-together Party
Wednesday, August 24, 20:00-22:30
Original Sokos Hotel Puijonsarvi
Minna Canthin katu 16, Kuopio.
Dress code: smart casual
Hotel information
A number of rooms in select hotels at Kuopio city centre has been pre-reserved for the symposium participants at reduced rates (please see below) for August 23-25, 2022. Due to limited number of rooms, please book early. Availability of the rooms cannot be guaranteed. To make a reservation, please contact the hotel directly and mention the booking code to take advantage of the offer.
Scandic Kuopio
Booking code: BALZ220822
address: Satamakatu 1, 70100 Kuopio
tel. +358 17 195111 | e-mail: kuopio@scandichotels.com
www.scandichotels.com
Rooms EUR, standard single 130, standard double 150, superior single 150, superior double 170. Breakfast, free Wi-Fi, use of a resident sauna, swimming pool and fitness room are included in the room rate.
Reservations by August 8, 2022
Scandic Atlas
Booking code: BALZ220822
address: Haapaniemenkatu 22, 70110 Kuopio
tel. +358 300 870 423 | e-mail: atlas@scandichotels.com
www.scandichotels.com

Rooms EUR, standard single 120, standard double 140.
Breakfast and free Wi-Fi are included in the room rate.
Reservations by August 8, 2022
Original Sokos Hotel Puijonsarvi
Booking code: BKAD22
Minna Canthin katu 16, 70100 Kuopio
tel. +358 10 762 9500 | e-mail: sales.peeassa@sok.fi
www.sokoshotels.fi

Rooms EUR, standard single 135, standard double 155. Breakfast, use of a resident sauna and fitness room are included in the room rate.
Reservations by August 1, 2022
Restaurants in Kuopio
Weather in Kuopio